What is a professional certification?
A professional certification registered with the RNCP allows for the validation of acquired skills and knowledge necessary to perform professional activities (Law of September 5, 2018 for the freedom to choose one's professional future). An RNCP title is a professional certification issued by France Compétences.
Discover the HEIP RNCP and associated training courses:
The HEIP status and diplomas
HEIP is a free institution of private higher education under the statute of the law of 1875. We issue the following RNCP titles:
Title RNCP n°36306 level 7 "Manager of institutions and public affairs"
Title RNCP n ° 37505 level 7 "Expert in international relations and cooperation"
Added to this are the 60 ECTS credits that HEIP delivers per year of study, i.e. 180 for the Bachelor
Certification of HEIP programs
The status of the 1875 law allows us to deliver degrees like public universities: students graduating from a HEIP Bachelor's degree can, for example, enroll in other prestigious public institutions such as an IEP, the Sorbonne … in France or a Master's degree abroad. This status also allows us to attract renowned professors who teach in other prestigious institutions, or diplomats, generals, lawyers, and magistrates.
60 ECTS credits per year of study
The European Credit Transfer and Accumulation System is a student-centered system, based on the workload to be achieved by the student in order to reach the objectives of the program which are defined in terms of knowledge and skills to be acquired.
The study plan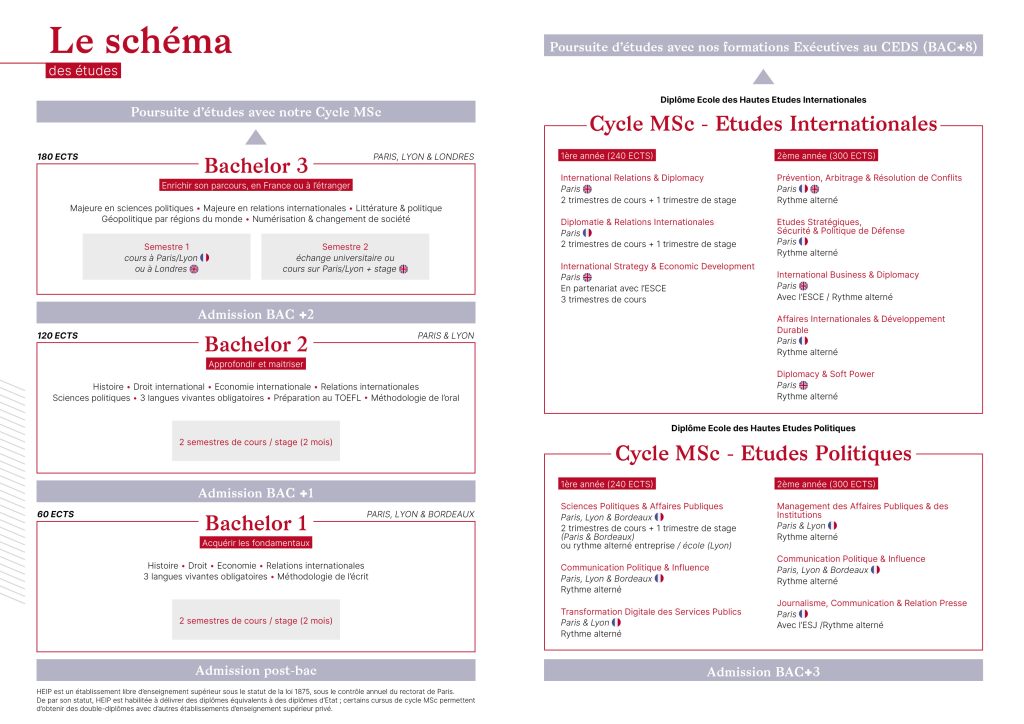 Updated 25 August 2023