Discover the associative life of HEIP
Lyon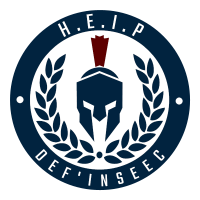 DEF'INSEEC LYON:

Def'Inseec Lyon is a Defense and Security association working closely with the Def'Inseec branch in Paris. Its purpose is to introduce students to the world of Defence, both in the private and public sectors. It also emphasizes that this environment is in permanent correlation with other spheres (such as the political, diplomatic and judicial), and that as such, it can only be accurately analyzed by taking this element into account. Thanks to its conferences, visits, fairs, and multiple immersive activities, Def'Inseec Lyon is a real opportunity to develop knowledge and contacts.

Find them on LinkedIn and Instagram !
President of DEF'INSEEC Lyon: Elena PRISTAVU – elena.pristavu@edu.heip.fr
TERRA VITAIA:

Terra Vitaïa is an association combining humanitarian and solidarity projects. In addition to supporting an association helping former homeless people to reintegrate into society, we are interested in humanitarian crises at the international level. This is how we plan to support a foreign association each year and intervene in the field to tackle the subject in a concrete way. Finally, Terra Vitaïa is committed to protecting the environment by organizing clean-walks but also by initiating eco-responsible actions for the benefit of the OMNES Education Lyon campus.
Find them on LinkedIn and Instagram !
President of DEF'INSEEC Lyon: Eva STOJANOVIC – eva.stojanovic@edu.heip.fr
Updated 25 February 2022